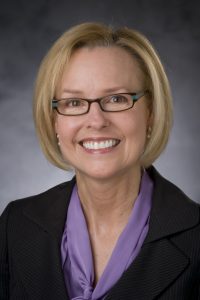 Geraldine Dawson, PH.D., FAPA, FAPS
Geraldine Dawson is Professor, Departments of Psychiatry and Behavioral Sciences, Pediatrics, and Psychology and Neuroscience and Director of the Duke Center for Autism and Brain Development at Duke University, North Carolina. Dawson is Director of an NIH Autism Center of Excellence Award at Duke focused on understanding early detection, neural bases, and treatment of autism and ADHD. She served as Past-President of the International Society for Autism Research and is as a member of the NIH Interagency Autism Coordinating Committee (IACC) which develops the federal strategic plan for autism research, services, and policy.
Dawson is a licensed practicing clinical psychologist and scientist, having published >290 articles and 10 books on early detection and treatment of autism and brain development. Her scientific advances include demonstrating that autism symptoms are present during infancy, describing the first case study of an infant with autism, validating the phenomenon of autistic regression, pioneering the use of electrophysiological techniques to elucidate early patterns of brain dysfunction in autism, and co-creating the Early Start Denver Model, an early intervention method that has been empirically shown to improve behavioral outcomes and brain function.
Her scientific research was recognized by the National Institutes of Health as a Top Advance in Autism Research in 2007, 2008, 2009, 2010, 2012, 2013, 2014, 2015, 2016, 2017, and 2018 by TIME magazine as one of the top 10 medical breakthroughs of 2012. From 2008-2013, Dawson was Research Professor of Psychiatry at the University of North Carolina, Chapel Hill and served as the first Chief Science Officer for Autism Speaks, an autism science and advocacy organization, where she oversaw $25-30 million of annual research funding. From 1985-2008, Dawson was Professor of Psychology at the University of Washington. There, she was Founding Director of the University of Washington Autism Center where she directed three consecutive interdisciplinary NIH Autism Center of Excellence research awards on genetics, neuroimaging, early diagnosis, and treatment, and oversaw the University of Washington Autism Treatment Center, which provides interdisciplinary clinical services for individuals with autism from infancy through young adulthood. Dawson is a Fellow of the American Psychological Society and American Psychological Association, and is Associate Editor or on editorial boards of four scientific journals.
Dawson's awards include a Lifetime Achievement Award from the Association for Psychological Science for outstanding contributions to the area of applied psychological research that addresses a critical problem in society at large, among others. An advocate for families, Dawson has testified to the US Senate to support autism legislation and services several times. Dawson received a Ph.D. in Developmental and Child Clinical Psychology from the University of Washington and completed a clinical internship at the UCLA Neuropsychiatric Institute. Dawson has also received the Distinguished Career Award from the American Psychological Association (Division 53).